November 18, 2010 —
I recently purchased a wide angle lens for my new Nikon D7000. I thought a lot about the wide angle lens options available for the camera and found there are essentially 5 options for people with Nikon DX bodies:
There is a fixed aperture (f/2.8) Tokina with a smaller range (11mm - 16mm), but I really wanted a lens with a larger range. This lens is going to cover the smaller end for me in my bag. Plus that Tokina is expensive... Then I debated for a long time which to get. So I went back to the inital reason why I wanted a wide angle lens: I wanted the exaggerated depth you can get with a really wide angle lens. That gave good arguments against one of the Nikons and the Tokina. That extra 2mm the Sigma and Tamron have really makes a big difference on DX a body. Granted, the Nikon glass is going to be really awesome, but it also costs a lot more for the 12-24 (~$250) and even more for the 10-24. The Tokina is really tempting, and DPRreview makes it seem like a great lens. Even though it is a bit less expensive than the Sigma and Tamron, I decided that I did want that extra focal length.
Thus, I was left with the Sigma and Tamron. Eventually, it just came down to having used the Sigma quite a bit. A buddy of mine has the Sigma, and I've used it a number of times on photo trips. So far I've been really happy with the results. I typically shoot at either end of the zoom range (10mm or 20mm), and at both lengths, the center is really really sharp. However, at the corners, the lens isn't quite as sharp. Though if one shoots between f/8 and f/11 (which I typically do), the lens ends up being sharper than wide open.
At 10mm, there is an interesting kind of distortion; about none at the center, with increasing distortion near the edges. Then, when at 20mm, almost no distortion. I want the lens primarily for landscapes, and not architecture or people. So despite this distortion at the wide end, for me, it isn't as big of a deal. Plus, there is software that can fix this if I really need it fixed (DxO comes to mind).
The final complaint with the lens is minor chromatic aberration. I haven't noticed chromatic aberration with the lens, but I think thats because of my insensitivity to certain colors (the colorblindness is at fault). Or, it hasn't been so bad that I've actually noticed it, though I don't believe I've ever looked for it. One aspect of the lens I have noticed is that depending on how the light hits the lens, interesting patterns can come up. For example, see the left side of the image below (click for a bigger version).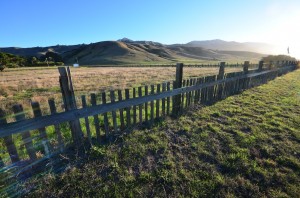 Both the Sigma and Tamron are lighter lenses with decent build quality. The Tokina is supposed to have a slightly better build quality than the Sigma, but since I'd handled the Sigma a bunch, I know what it feels like. It doesn't seem cheap or toy like and that it will hold to up to a beating while hiking and being active. And the light heft helps when hiking or traveling far. It is a bigger and wider lens, so it takes up a fair amount of space, especially with the lens hood, but I'm going to get that with almost any wide angle.
In all, I really like the Sigma; it was a known quantity and I'd taken some pictures I really liked with it. I ended up getting the f/4-5.6 version of the lens instead of the faster, fixed aperture (f/3.5) version available as that model is more expensive. For my uses, I decided that I don't need that extra speed. If I do have lower light, I'll turn up the ISO (the D7000 has great high ISO capabilities) or use a tripod.
Hopefully this helps others decide which lens they want as well. I'd definitely be curious to hear which lens others choose and why. And then I want to play with your lens :)